St. Timothy's Episcopal Church, Gridley, CA
Our project consists of four stained glass windows on various themes for the south wall of the chapel at St.Timothy's Episcopal Church in Gridley, California. The design for the first of these, the "Revelation Window," is shown at right.
In our vision of Revelation, Jesus with crown and septor sits above the universe with stars above as below. The four wheels of the fiery chariot, are like wheels within wheels, one for each of the four living creatures, having rims full of eyes all arournd.
A twelve-pointed star behind Jesus symbolizes the 12 Apostles and the 12 Tribes.
A circle of rainbow spheres stands for the "whole spectrum of life," that is the alpha to the omega.
Seven is the number of the stars, the number which equals perfection. Seven stars equal the angels of the seven churches, heaven, the spiritual dimension.
Four wheels and four angels stands for the four orders of creation, four living creatures, four cardinal directions, four seasons, the earthly realm and in essence, the four steps of faith: "A man called Jesus," "is a prophet," "from God," "Son of God."
The four angels, at bottom are attired in the colors of the four liturgical seasons.
The design for the "Revelation Window" envisions four angels in the four colors of the liturgical seasons at the bottom of the composition.
The "Revelation Window" as it would appear installed in the south wall of the Chapel.
Another view of the chapel with the future stained glass window installed.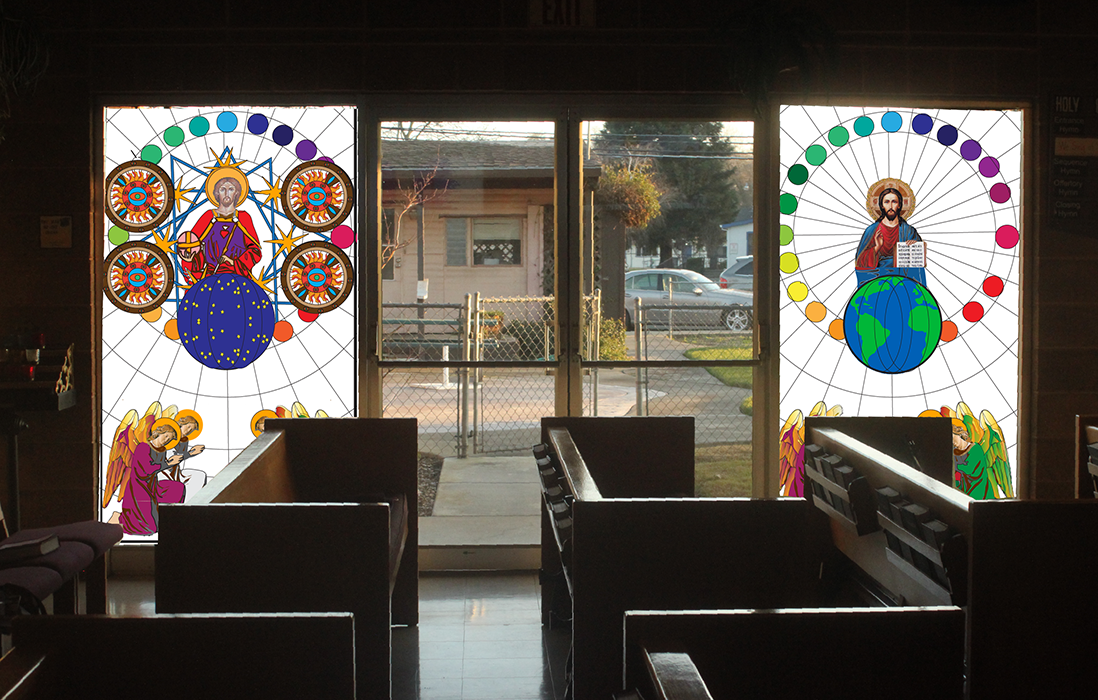 View of the future, with the beginning of a design for the second of four windows for the chapel. We envision each of the four windows having four angels kneeling at the bottom of the composition.